I wrote this reflection on the death of the legendary Kerry cyclist, Mick Murphy, at the time of his death in Sept. 2005.  It gives some background to the story that I wrote about him in my book about the Rás , along with a reflection on the wider character that was Mick Murphy.
---
Outside of older cycling circles in Kerry from the 1950s, Mick Murphy had largely become unknown and forgotten about over the years. However, when my book on the Rás was published in 2003 the Irish Examiner printed the chapter on Murphy in full and he became somewhat of a celebrity overnight. Further media attention followed and, since then, his identity and memory have become tied up with his cycling story.
However, on the occasion of his death, it would be regrettable if our memory of Murphy was limited to the few short years of his life that he spent cycling. Therefore, having contributed to this aspect of Murphy's identity, this is a short reflection on the broader character that was Mick Murphy.
But first, a brief background to my knowledge of him.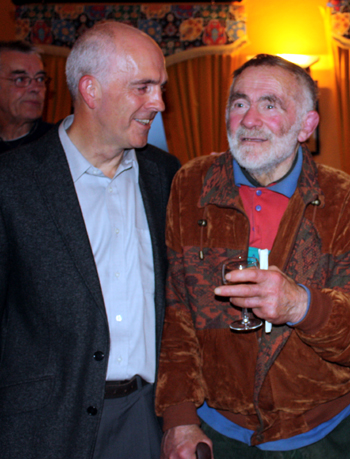 Tom Daly with Mick Murphy, 2010
I first became aware of Mick Murphy through a short newspaper article about his 1958 Rás win from the local Kerryman newspaper sometime in the 1980s. It described him cycling part of a stage on a farmer's bike, crashing badly and continuing on another borrowed bike, being 'strapped' onto his bike at the start of the following stage, and so on.
I knew enough about cycle racing to know that all this was highly implausible. It sounded more like one of those typical 'Rás legends' that abounded in cycling circles – stories that might have had some basis in fact but which had become highly exaggerated over time.
However, for some reason, I cut out the article and kept it in a biscuit tin with other documents and such like. Every now and then through the following years, when I would be rummaging through it looking for something else, I would come across the article and read it again.
I began asking older cyclists from the 50s if they knew anything about Murphy. They all seemed to have a story, each one stranger than the other. Some of these connected him with the Kanturk/Banteer area, near to where I lived then, and local enquiry produced yet more stories.
Mick Murphy had become an itch that wouldn't go away and, when I decided to write the book on the Rás around 2000, uncovering the true story of Murphy was the first item on the agenda.
I began with the usual forms of research – interviewing people from the time, looking up newspaper records and such like – and the story began to take shape. However, in spite of the mounting evidence, it still seemed rather unbelievable. It was only when I unearthed a photograph of him actually being supported on the bike, at the start of the stage following his crash in 1958, that the story became 'real'.
The next task was to meet Murphy himself, and this wasn't easy. Nobody seemed to know where he was – he had left Ireland early in the 1960s and little had been known about him since then. Eventually I found out that he had returned home some years previously and was living in relative reclusivity in the old family home near Caherciveen, and that he might not be easy to meet.
My initial interview was arranged through a local athlete of his era whom he trusted, and this was the beginning of many visits and many hours of taped discussion. These, along with the corroboration of contemporaries and other sources, were the basis of the chapter produced in the book.
This chapter, however, was not the full story of Murphy: while sketching out his background and context, it was largely just the story of the few short years he cycled competitively and his Rás win. As his legend as a cyclist grew, I became more conscious of the neglect of the 'other Murphy'. Hence, this reflection on the occasion of his death.
Murphy, of course, was many-facetted but, as time went on and I visited him just for a chat rather than for research, I came to see him more as an artist and performer than anything else. Performing as a 'strong-man' was one of his main interests in his early years – the physicality element was just one form of expression.
As his profile grew in later years, and as he became a gracious host to a steady stream of visitors and the subject of various media interests, he began to revert to being a performer, mainly in the role of a storyteller. He regaled his audiences with his stories that became ever-more crafted and which, understandably in that role, took some artistic license at times.
The main venue was his home where he chose to live a highly-simple life with which he seemed utterly content. I brought one such group of visitors myself: in 2010 a group of us from the Kanturk / Banteer area rode to Caherciveen, stayed overnight and then met Mick at his home by appointment the following morning. Then, after a lengthy stop and as a tribute to Murphy, we rode back on the route that he took to Banteer in 1958 where he prepared for the Rás (loaded with cartons of fruit-juice that he insisted we take for the journey). The visit was an unforgettable treat for all the party.
The expression 'truly unique' is bandied about much in relation to Mick but, in this case, it is very apt. Mick was also highly intelligent, informed and knowledgeable, and had an amazing memory for detail. He was witty and mischievous, with a lively glint in his eye. While strongly opinionated, he was trustworthy and truthful as a source. He had a soft and tender side too: I remember him interrupting one of his stories and struggle with his arthritic hips to bring crumbs to a bird that had come to the door of his house.
An odd coincidence occurred for me on the day I heard about his death. Earlier this year a novel called 'The Night Stages' was published by the noted Canadian Author, Jane Urquhart, and she had generously acknowledged my Rás book as an important inspiration and source.
I had been reading the novel and, while it was obviously fictitious, it became clear that one of the main characters was based on Mick Murphy – on the his geographical and social contexts and his 1958 Rás.
I finished the novel on the morning of Friday Sept. 11th and, while it was obviously a fictitious character and not the real Murphy, I was thinking about him and was glad that the cycling aspect of the character he inspired in the novel was portrayed as just an expression of the man, and not as the defining aspect of the character. Later that same evening I heard of his death.
Who knows where the Mick Murphy story will end up. It is right for us in the cycling community to celebrate his cycling accomplishments, but I hope the 'real Murphy' will get due recognition in time.
---
The chapter on The Iron Man's story from my book, The Rás: The Story of Ireland's Unique Bike Race (Collins Press 2003), is available on this website here ….