Reflections on the coming of age of my former club-mate, Eddie Dunbar

---
This article is not about my usual topic of performance for older cyclists. Rather, it is a reflection on the character and development of my former club-mate, Eddie Dunbar, who is now with Team Sky / Inios. My interest in writing the article obviously stems from the fact that I rode with Eddie off-and-on as a club-mate from the time he was 12 until his last amateur race in Ireland – the Charleville 2-Day in 2014. However, it also reflects the concern I have about mental wellness and cycling, especially relating to yournger cyclists, and I have posted articles on this previously. This article was first publised in Rouleur Magazine in October 2018. Images are by Russ Ellis.
---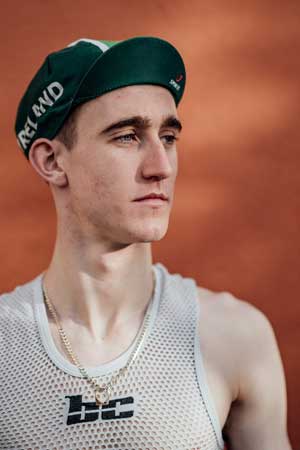 It is an early season race at Minnane Bridge, Ireland, in April 2013.
The weather is miserable – cold and windy – and the event covers a hilly and exposed 106-kilometre route to the south of Cork City. The plot seems predictable: the Juniors get a three-minute handicap and will half-race for a while before being caught and put to the sword by the elite A1s.
The race comes around the first of six laps and Eddie Dunbar, my club-mate from Kanturk Cycling Club, is out on his own. Scattered chasers follow and then the leading A1s pass. Somebody checks a watch: the gap has gone out. Eddie is attacking them. He has just turned 16 and in only his second race as a Junior, it's a novice kamikaze move.
The laps tick down, the advantage creeps out, and the pursuing bunch whittles down. Eddie finishes almost five minutes ahead after a 100-kilometre solo ride. It isn't his physical capacity – such a huge engine in a diminutive, boyish frame – that stuns me so much, it's the sheer audacity of the youngster to attack the elites from the gun.
Danny Curtin, his coach and mentor, would have had something to do with it no doubt: he would have instructed the kid to go for the seemingly impossible and Eddie would have done what Danny told him.
As I drive home, trying to make sense of the day, I make a mental note: 'If Eddie ever makes it, I'll never forget Minnane Bridge: this is where it began.'
**********
It is now 2018, almost five years later and it feels slightly odd to talk to Eddie in our respective professional capacities rather than as casually-acquainted club-mates. I'm interviewing him for Rouleur and he has been a UCI Continental-level professional for three years.
We sit in the living-room of the family's compact, terraced home in the small village of Banteer in southern Ireland, an hour north of Cork. The 22-year-old tried Girona but didn't like being in the perpetual cycling bubble and lives at home with his sister and mother. Over winter, he trains on the heavy local roads or on his turbo trainer, squeezed into the kitchen in front of a hot fire with a lot of kit on, "just to make it that bit harder".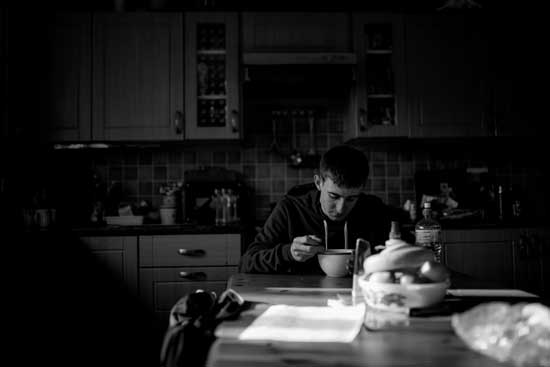 Already with that worn, austere look of the professional, Eddie is on the cusp of making it into the big time, having signed with Aqua Blue Sport for 2018. At 15, he told a local newspaper that he aimed to win the Tour de France; he later elaborated to Rouleur: "I always said to my mum that I would never quit cycling until I won the Tour. I reckon the likes of the Vuelta or Giro will probably suit me better though, they're that bit hillier." Where did this self-belief come from – almost a sense of destiny – at such a young age?
The thing is, Eddie was never cocky or arrogant or naïve – everybody likes our Eddie – so he must have believed that he can really do this. But there are so many hugely talented young riders out there, all trying to climb the same greasy, narrowing ladder to the top. The majority will fall off with all the consequences.
"So, Eddie, when will you consider that you have made it? What will you settle for?"
"Something big in cycling: a Grand Tour or Monument win. That's what I mean by making it."
**********
We go back to the beginning. He describes a fairly typical induction at 11 when he became enamoured by the Tour de France on television and his father brought him to Danny Curtin at his fruit stall in the Market Square in Kanturk: "All I needed was a birth certificate – Danny gave me a bike to get started."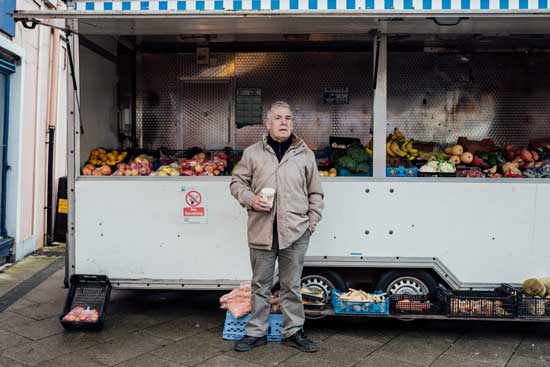 Danny started the club in 1991 in the small County Cork town and his unorthodox, singular style has been producing Youth national champions annually ever since. The club, and Danny, shaped Eddie's early relationship with cycling, particularly after the loss of his father, Eamon, from a progressive kidney disease when Eddie was 14: "He went into hospital one time and was gone for months and just never came back. I was at the Mayo Youth Tour and got a call to go home. But I half-knew what was going to happen and just couldn't face it. So I stayed until after a time-trial the next morning and left then. I was met by my sister who told me: he was dead before the stage but they didn't tell me."
Cycling was becoming a form of avoidance, a means of blunting the emotional trauma. "You are just numb and it doesn't feel real," Eddie says. "I just wanted to get away from it all." His relationship with Danny took on a particular dimension then. "I suppose when a fatherly figure goes out of our life, you are subconsciously looking for that kind of manly person." The youngster, with the focus and single-mindedness of potential elites, had intuitively bought into a bond that provided the support, structure and focus he needed. "Danny took me under his wing. He laid down markers and discipline and made me do the right things: training and eating right, doing my stuff in school and being good to my mom."
It was a milieu in which innately gritty and ambitious young riders could find challenge, expression and fulfilment, and the main recurring themes in Eddie's talk of those formative years are fun, comradery and Danny's "mental training stuff".
"We'd be in the Square waiting for Danny and having the craic, and then everybody would go quiet when he drove up, trying to judge his mood – we were terrified of him," Eddie says. "When he'd say, 'right, over the hill so,' we dreaded what was to come: a drag with about 20 telephone poles. Depending on his mood, we might start at the middle one or the bottom one. Then you'd be doing 15 sprints up this drag and could barely cycle home afterwards. We thought it was mad, that we shouldn't be doing this."
"Why did you keep coming back if it was so hard?"
"Looking back at it now, it was the fun and the madness and the thrill of it. And also the sheer fear that if you missed training, Danny would make you work harder the next day."
Eddie was a poor sprinter and some of us thought him tactically naïve ­– a workhorse, taken out in sprints, who could only win on his own on hard circuits. He might never have won a national Youth title had Danny not switched his focus to the time-trial for his final under-16 championship. One title was pretty ordinary in Kanturk: he wasn't destined to ride a Grand Tour, let alone win one, it seemed.
I move on to his transition to Junior. We had missed him from the Sunday club spins that winter and Danny was sidestepping queries with vague talk about medical tests. I hadn't realised that Eddie, at 15, was already vulnerable and having an early brush with mental wellness issues.
"I got into a kind of panic facing Junior [level] and only took a week off after the Youth Championships. I was constantly exercising and I came back from a spin one day, turned into the estate and ended up riding into trees I was so tired. It was like I almost blacked out. There was a lot of talk of Sudden Death Syndrome at the time and I started getting anxiety attacks and convinced myself that I had some heart problem."
It was the end of January before various cardiology tests were concluded and he had just two months to prepare for the season. He was physically fresh, however, put his faith in Danny's training and the miracle of Minnane Bridge was an early indication of something special.
But why, out of all the youngsters that passed through the Kanturk club, and perhaps out of a generation or more of Irish cyclists, did Eddie become the special one?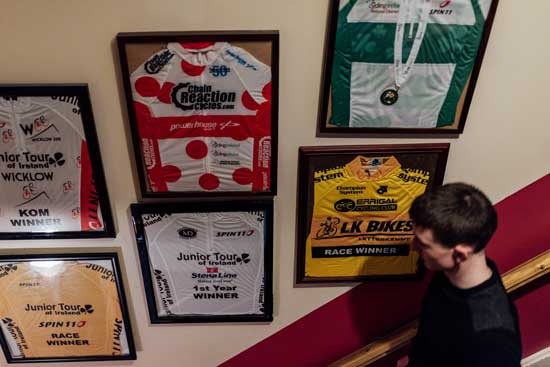 Certainly, he has a physiological advantage, maximised by his own unrelenting training along with Danny's distinctive style of coaching and methods which wouldn't be found in any coaching manual. "There was no science, no heart rate monitors, no power meters," Eddie says. "When I went professional, I had a moment of panic when they handed me all that stuff and I couldn't even switch on the Garmin. There was a simplicity to the training – you'd think: 'Jesus, is that all?' But it was mainly the work rate: at the time we just thought he was trying to kill us. I was brought to tears sometimes, it was so hard. And you are not going to say no to him or you'll get a bollocking, and so you just do it. He also has a way of understanding a rider, like telling him what he'd need to do to win a race."
Yet it had to be more than just preparation and physical capacity. Some distinctive traits begin to consistently feature as we chat, especially about his Junior years (2013-14) and particularly what it took to win two Junior Tours of Ireland: primarily, a form of principled and single-minded resolve.
This six-day international is the highlight of the Irish Junior calendar, but Danny's riders had never won and there always seemed to be tension in the Kanturk camp whenever they were on Irish teams. His individualistic ways grated with the cycling establishment and he felt that his riders were less-favoured provincial outsiders.
The machinations started all over again with Eddie: "I got a call to say that I had been selected on the Irish team and, because I was a first-year Junior, I'd be riding to support the second-year Juniors. I didn't like that at all."
This reinforced his feelings of being an outsider: "I wasn't the guy who came from a wealthy background or who had the best of equipment. There is that sense that you are looked down on because of that sometimes – that you are not the best poster boy. I had a point to prove in that sense."
He responded by facing down the establishment, attacking the prestigious race and eventually cracking the bunch on the third stage. He simply rode away with another jaw-dropping solo display that gained two-and-a-half minutes: it was game over, point proven. He won the last stage too, "as a token to thank my team-mates for their efforts", and there was a rare display of emotion at the end as Danny embraced him, tears flowing.
Then it started again the following year. Eddie was the favourite, even though the top race had never been won twice by the same rider in its 36-year history. But his team-mate, Michael O'Loughlin, now with Team Wiggins, put him in a domestique role again by winning the opening time-trial and taking yellow.
Eddie had been last off, blamed a change in the wind and openly defied the establishment yet again: "I said I'm not letting the wind decide my race: simple as.'" Then he unleashed that uncompromising resolve on the next stage.
I had ridden ahead to the Cliffs of Moher, 50 kilometres from the finish. When the race arrived, Eddie was dangling 30 seconds off the front, with the American team lined out in front of the bunch and their national champion, Jonathan Brown, sitting in comfortably. I was flabbergasted and still had no faith: 'Is he ever going to learn to use his head? They are just letting him hang out there; he's playing into their hands.'
However, like many, I'd read it wrong: he wasn't being tactically naïve and impetuous, but had the odds calculated. "I knew they would crack before I would, especially on Irish roads," Eddie says. "It was more to prove a point than anything." He eventually soloed home almost three minutes ahead.
That desire featured yet again in his National Championship road title. Eddie had failed to win his first Junior Road Championship – the course was too easy, apparently – but it seemed gifted to him the second year by the local Blarney Club which hosted the event: he was generally considered a one-trick-pony and the route finished on a tough, one-kilometre drag where he should have been able to get rid of the sprinters. I was baffled when he came to the finish with a noted fast finisher.
"Why did you bring Michael O'Loughlin to the line – were you not able to distance him on the climb?"
"I wanted to show I could win a race any way, not just to finish on the climb and come in on my own. I showed them I can do it this way too." It seemed a high-risk gamble to defy tactical convention in order to prove yet another point. I hadn't noticed this ruthless trait in him before.
That outsider streak also came into play in his preparation for the World Junior Championships. He was being touted as Ireland's best hope since Mark Scanlon, who won in 1998, but he finished off the back, three minutes down.
"Your last race before the Worlds was the Charleville 2-Day: I raced in that and asked myself 'how could a Cat 2/3 race, in the same bunch as a 60-year-old, be good preparation?'"
"The ideal preparation for the biggest junior race in the world would be to go out and race against the best in the world, but that was not offered to me. Everyone was saying to me after that I should have been racing out foreign and I'm saying 'but who was going to fund that?'"
"Did it came down to a lack of support from Cycling Ireland then?"
"It's not like I could afford it myself, and I'm not going to go looking for it: I always made do with what I had and made it work out."
Perhaps his principled independence cost him in that instance, but there was also accumulated stress and fatigue from six months of hard training and racing, the weight of Irish cycling expectation and looming decisions about professional options. "The minute I crossed that finishing line, there was a sense of relief and the pressure just lifted off me," he says.
His transition to the senior ranks brought pressures of another kind – "There were people ringing Danny left, right and centre, telling him I need to go to this place or that place" – but Eddie had a very measured approach with clear priorities, looking for "someone who is interested in your development and is going to look after you and listen when you had something to say".
In assessing the options, he flew with Danny to Birmingham to meet with John Wood, boss of the UK-based NFTO Continental-level team and eventually took the decision-making into his own hands. "I cracked one day," he says. "I got sick of everyone wrecking my head, telling me what to do, rang John and finalised everything. Maybe he had another point to prove: "A load of Irish guys all do a similar thing and say 'You have to go to France or Belgium to be a good cyclist', whereas I felt you don't. I chose a different path."
He chose well. Dunbar speaks with noticeable fondness about his year of learning with NFTO, in spite of the "massive blow" of a broken collarbone while holding the climber's jersey at the 2015 Tour of Yorkshire. He especially values the perspective he got from older riders: "It was how they see life; they know this is going to stop and you have to prepare; things like how they manage themselves with money and buying houses, stuff you don't expect to learn at 18."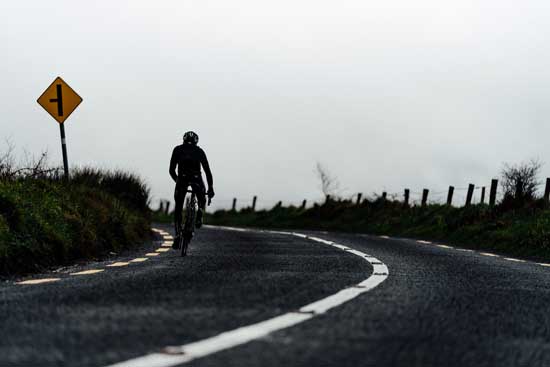 For 2016 and 2017, he chose a slightly different path again and joined Axel Merckx's US-based Hagens Berman Axeon squad. He struggles, however, to articulate how the first year unfolded: "There was something missing – I didn't know what it was." His difficulties included a broken collarbone in April from a crash while motor-pacing near home and it was particularly bad timing, just five weeks before his first Rás. This historic race dominates the Irish cycling psyche and is expected to feature on a top home rider's palmarès by the nation's fans.
Dunbar led the Irish team but was still in a negative frame of mind and almost abandoned after a mechanical cost him the chance of the race lead on the fourth day. The weight of expectation prevailed, however, and he got his first professional win on stage seven, ironically in a sprint from a four-man breakaway. "The stage passed where my dad is buried so there was a bit more to it than people knew," he says.
Talking about the sprint win, I ask Eddie to comment on criticism that his aggressive riding is often tactically naïve and costs him results. In defence, he immediately jumps to the highlight of his career so far, under-23 Tour of Flanders victory last April: "I was smart and I knew what I had to do."
He describes the race's unfolding as if giving a tactical master-class. He took a risk by staying towards the back and watched all the favourites burn energy fighting for position at the front. The attrition started and he saw the contenders stressing, not eating or drinking, while he kept on top of it and noted who was tiring. He was monitoring his own form too: "I asked a Swiss guy 'when is the Oude Kwaremont climb?' When he said 'five kilometres ago,' I knew I was on a good day: I hadn't particularly noticed it. It was a matter of picking my moment."
Eventually, only the Frenchman Alexys Brunel was left, but Eddie "wasn't worried about him one bit: he was struggling on the climbs and I was staying calm. I just put it in a big gear and didn't look back – I knew he was going to be gone and it was a matter of getting to the finish then without any mistakes. The end was surreal."
We fast-forward to the Baby Giro in June where "it all went wrong in seconds". He went into the race full of expectation – "I wouldn't have been satisfied with anything less than winning" – but crashed in the first stage, hit his head and has no memory of the next hour. Then came the denial and concealment about the concussion – he didn't want to be stopped from racing the National Championships – and he tried to resume training with constant headaches and fatigue: "I had to pull in to the side of the road for the first time in my life and I burst into tears – I just couldn't pedal the bike."
He struggled on. The National TT Championship "was a disaster which wasn't good for my head" and the Road Championships was the first race he ever abandoned without injury. Behavioural changes began to creep in. "I was a horrible person to be around," he says. "I was moody and had no mental endurance: going upstairs to brush my teeth was an effort."
He still thought everything would work itself out and went to the U23 European Championships but almost collapsed after the time-trial: "I went to the van and my eyes started rolling in the back of my head, I didn't know where I was for a minute or two. I got a complete anxiety attack and started to panic. The soigneur started testing my reactions and I could see that she was worried. All the staff were called."
Medical assessment followed and he had to accept three months recovery off the bike, missing his main end-of-season targets, the Tour de l'Avenir and the World Championships.
Being off the bike was "very scary". Life outside the cycling bubble, combined with the injury and recovery process, apparently triggered something of a psychological crisis.
"You are just pre-occupied with that one obsession and then the thing you have been doing and love for 10 years straight is suddenly taken off you: your lifestyle and routine is gone. It's almost like you are trapped: I didn't want to do anything and wasn't a nice person to be around."
Then, in addition, the dam of suppressed emotion from his father's death suddenly overflowed. "It hit me like a ton of bricks," he says. "I don't know why it took seven years, it's almost that I had to hit my head to realise it."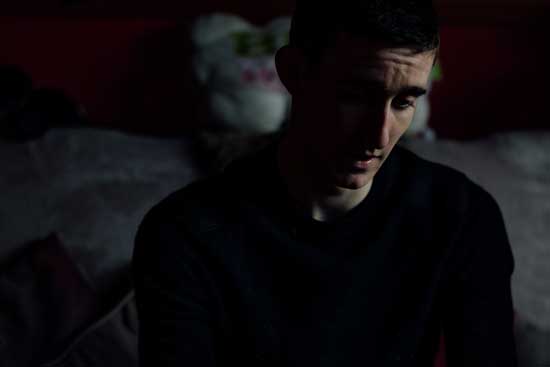 Eddie is recovered now, back training fully for three weeks when we meet in November 2017, grown from the adversity: "I think I learned a lot about me as a person over the three months. I have a better understanding of myself and of what happened in the past, and accepted it."
We talk about his decision to join Aqua Blue Sport when he had WorldTour options. It fits with his development strategy and, moreover, he likes the "Irish feel" of the squad, founded by fellow-Corkman, Rick Delaney. He is proud to contribute to Ireland's first Pro Conti team. His ambitions for the season seem modest in one sense, but are consistent with his patient approach: primarily he hopes for a year of solid, healthy racing, to earn respect in his new team and to help them win races.
There is a paradox here, in the tension I'm sensing. On the one hand he is almost bursting with unrelenting ambition and self-belief – "I know my best is capable of winning a top-level race," he says. On the other, he is patient: "I'm only 22 – there's plenty of time for the WorldTour." That sense of tension now seems more like a coiled spring: "As long as I know I've given it my best shot. I don't know when or what that will be, that's what I want to find out".
The following day I join photographer Russell on his shoot and we go into the Square to catch up with Danny. Eddie is back to his usual relaxed self, making time for passing well-wishers and showing Russell around Danny's Aladdin's bike cave: the old steel Mercian, bought by Danny's brother in 1979 and ridden by Eddie in his first Junior race, hangs with the rest of the eclectic collection. It would be junk to most but is ready for a fresh crop of Kanturk hopefuls in the spring.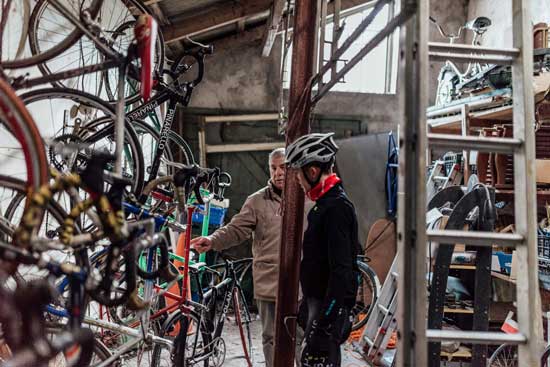 Eddie heads off into a weak, wintery Irish sun and I try to process the previous day's chat as we watch him powering over the familiar hills and drags. Is Eddie really on the cusp of something big? Am I still anxious for him?
I should be: he has endured two psychologically-dark episodes along with two broken collarbones and a serious concussion. And he's only 22, yet to face the monumental challenges of the game.
However, he doesn't seem so vulnerable now. He has been strengthened by those adversities. He is self-possessed, emotionally-mature and resilient. He is not a slave to trends or convention and is ploughing his own furrow. He has been astute and streetwise, aware of the exploitative side of the business, but equally loyal and appreciative. He has passion and, of course, that exceptional work ethic and ability to suffer.
Yes, he is different, and I now believe it is probable: some time, on some big stage, that ambition – or perhaps destiny – will be dramatically unleashed. Something big is going to happen for our Eddie: he has a point to prove, after all.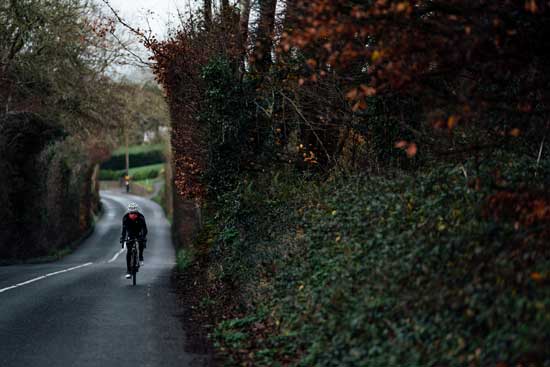 **********
(Update, 10 months later, just before going to publicatoin in Rouleur and befor the announcement that he was to join Team Sky)
It is now September 2018, 10 months later, and I catch up with Eddie again before going to print.
His Aqua Blue Sport team has suddenly folded and Eddie is home at Banteer to prepare for the World U-23 Championships. He seems quietly satisfied with his year to date: no spectacular win but gained solid experience and development from his step up to big races like Amstel Gold, Liège-Bastogne-Liège and Tour de Suisse. Amstel Gold stands out as a highlight: "It was my first really big one-day race and I was able to spend most of the day working in the break".
Any disappointments? Eddie pauses, with nothing significant seeming to spring to mind, and I give him a prompt: the collapse of Aqua Blue Sport?
He is philosophical, or perhaps professionally non-committal: "It wasn't great but these things happen and you have to respect Rick Delaney for what he invested in the sport. We have to be professional about it and just try to move forward".
And where will he be moving forward to next year? Eddie hedges a little, understandably as negotiations must inevitably be in progress, and I help him out: Will it be Pro Tour? "Yes". Does he have options? "Yes". Is he intimidated by the prospect? "Not at all: I want to learn and I'm ready for it".
I remind him of his benchmark for 'making it': a Monument or Grand Tour stage win. Are his ambitions dented by his year at Professional Continental level?  "No. I've ridden Amstel Gold and Liège-Bastogne-Liège and they suit the type of rider I am. And I hadn't done anything like the Tour de l'Avenir in two years but I rode myself into it and almost won the last stage".
And finally, his ambitions for the U-23 World Championships? "Nothing less than a win: that's the frame of mind I'm in now".
**********