Why you should stay competitive through the decades, and how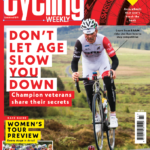 A version of this article, called 'Cycle Yourself Ageless', was published in Cycling Weekly in June 6th 2019
---
Why do so many riders retire from competitive cycling when they could continue for decades longer? They grow tired of the grind, you might argue, or other priorities like work and family take over. Perhaps they simply lose interest when performance begins to decline towards the end of their prime years. As a 63-year-old bike racer and masters coach (mccm.iwsi.ie), I want to highlight the benefits of staying in the game — and why the rewards of keeping on training and racing go well beyond competitive enjoyment.
A major Australian study in 2016, which reviewed research on 'successful aging', concluded that masters athletes are exemplars of successful aging. The psychological and social benefits are likewise well established, with Jonathan Beverly, a leading author on the topic, pointing out that lifelong competitors have higher psychological, cognitive and social functioning relative to their peers.
For this feature, I sought out the older competitors I most admire, to find out how they coped when the inevitable decline in performance began — how they adapted their training and maintained their racing resilience. And for the benefit of younger readers, I asked these grizzled racers what advice they would have given to their 25-year-old selves to ensure a long, healthy and happy lifetime in cycling.
Joe Barr, age 60
I have to admit to a particular fascination with Irish endurance legend Joe Barr. After retiring from the pro peloton 20 years ago, he just kept going, and still stretches the outer limits of his endurance performance. Now, aged 60, he is striving to break new boundaries.
Barr, who lives in Co. Derry, Northern Ireland and runs Team Joe Barr (teamjoebarr.com), had numerous successes from the mid-Eighties, including a bronze medal at the Commonwealth Games and third in the Tour of Ireland; he was national Champion at time trial and cyclo-cross. Retiring from the professional ranks in 1999, Barr continued taking part in Gran Fondos and claiming place-to-place records. He then turned to ultra-racing in 2009 at age 50 and won the inaugural Race Around Ireland. He has since taken major international ultra wins including the World Ultra-Cycling Association's 500-mile world championships in 2017. Last year he again won Race Around Ireland, aged 59. He turns 60 on June 13th when he'll be two days into Race Across America (RAAM), where he's targeting a podium finish.
Joe, most of us would be happy with a professional career: how did you come to stay racing when yours ended?
I retired as a professional in 1999 as road racing just wasn't fun but I continued setting place-to-place records and riding Gran Fondos.
They were a kind of boring no-man's-land but they kept me in the game and then I entered, and won, the inaugural Race Around Ireland [1,367 miles] in 2009 to raise funds for the charity that supported by son through treatment for stage 4 brain cancer which began when he was five months. I spent much time in hospital with him with very little sleep and realised I could function adequately regardless. He eventually recovered after very difficult treatment and that whole experience taught me a lot about   mental fortitude and resilience which is the cornerstone of ultra-racing.
So, I just stumbled into ultra-racing and discovered that I could be good at it. I went to the Race Across America (RAAM) in 2012 (3,070 miles) but ended up in hospital in a serious condition from altitude sickness. That was crushing but I did a meticulous autopsy of the event and realised that I had to develop again as a racer, but in an entirely new way.
I went back to the drawing board, continue developing and setting place-to-place records, and came back to win the 10th Race Around Ireland in 2018 at age 59. It is a most unrelenting and unforgiving and I used it to test my strategies for a return to RAAM 2019.
How has your preparation changed?
I've had to change my whole training approach of course – it's more about sustainable power over time versus the really high-end intensity intervals. For example, I went to a 24-hour race in Florida in February this year to practice sustained power over 24 hours in the TT position and in heat. Age demands more attention to nutrition, recovery and restorative rest.
What I am doing now is harder than when I was a professional but I have more enthusiasm and I'm breaking new ground: I have discovered a new endurance performance edge and it is intriguing to see how far I can really go.
I'm aiming for the overall podium in RAAM this year, despite being 60: my performances indicates it's possible and I sense there are new performance edges still waiting to be discovered. I will never stop riding my bike or taking on challenges because it's who I am.
Your enthusiasm and performance at 60 is enviable: what advice would you give to younger riders to aspire to this?
Look after your health and build a robust, resilient system. I always took care of my nutrition and I couldn't do what I'm doing now otherwise.
If I was young again I would also have unloaded the un-necessary baggage: the amount of energy you can spend on meaningless things is huge, getting wound up in the politics of cycling, the pressure to get on teams and so on – it can leave you embittered and exhausted if you let it.
I was also afraid of losing my identity as a rider towards retirement. I hadn't stayed connected with the grass-roots nor kept in touch with 'normal' people. Elite riders should keep the social connections with their local clubs and stay grounded in the day-to-realities of normal life – they will have to return to them one day.
Stay cycling when the body begins to decline: inspiration can find you again, in a different way perhaps, but it has to find you moving. And don't give in to self-limiting beliefs about age.
Peta McSharry, age 52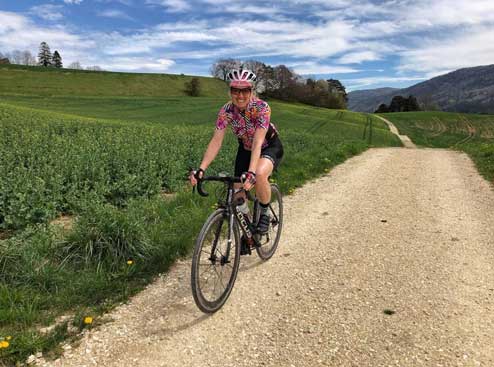 I somewhat envy Peta's versatility as a competitor and especially the sense of challenge, freedom and adventure she experiences in backpacking competition: long, solo self-supported races over days or weeks.
Peta is from London and runs a sports massage therapy clinic (sportsmassagezone.co.uk). She has been cycling since age four and the series of personal challenges she has set herself include elite-level road racing (up to 7th in World Championships), the Etape du Tour (7th lady), the Paris Roubaix Challenge (2nd lady) and Paris-Brest-Paris (under 79 hours).
That was before she got into bikepacking events in 2013 and since then she has, in her own words, 'attended four weddings and a funeral by bikepack'.
Peta, many settle into a groove as they get older: what motivates you to keep exploring new cycling challenges?
I was never a sprinter so it's not like my performance fell off a cliff edge when my ovaries packed up.  I thrived on multi-day endurance racing and so, when I turned to bikepacking at 46, I blamed my diminishing speed on the additional 7-10kg. Anyhow, I never defined myself by speed or places on the podium, but more by the satisfaction that suffering brought.
I was never going to retire as such anyway because there's too much beauty about the bike and the excitement it offers. And also the variety: the discovery of bikepacking fed the inner child in me and I discovered a new spirit of competition. You are mainly in competition with the elements, the distance, and hiccups in planning, so age falls secondary to efficiency.
I've started the Transcontinental, the Trans Am, the Route 66 and the Silk Road Mountain races: I've yet to find the finish line on any of these but that  doesn't stop me trying. Failed ovaries have less bearing on this aspect of racing so there's no point retiring until the wheels really fall off.
How did the training challenges change for you?
When reached the menopause I attended an NHS doctor, a poor 30-year-old-male, he just looked over his glasses at me and said "what do you expect at your age?" I'd love to open the lid on training and competing through the menopause: my advice would be to find a female doctor who studied female issues and the menopause and take advice from them. That first sign of a night sweat should prompt you to seek advice, don't wait eight years in the hope it will "just go away".
What would you differently if you could go back 30 years?
If I could go back to my 25-year-old self I'd sleep more, train shorter but harder, and lift weights. Oh, and I'd laugh more too.
Chris Young, age 55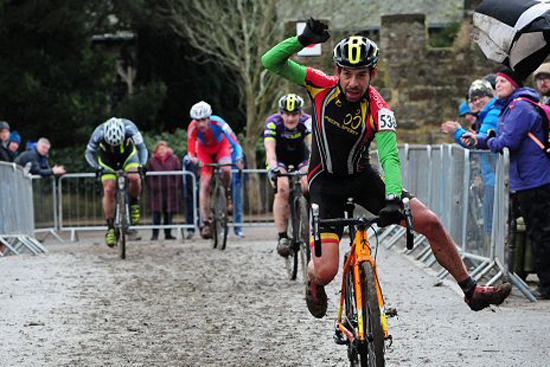 Chris is a great example of those riders who focus on the same cycling discipline and keep achieving to the highest levels over many decades.
Chris is from Yorkshire and works as a Go Ride coach for British Cycling. He won two Senior Cyclocross National Championship in both the 1980s and 1990s but was also very versatile, winning elite road and mountain-bike events. He went on to win Veteran Cyclocross National Championships at over-40 and over-50.
You were at the top of your game and then retired: how did your comeback occur?
I was a pro at 24 but, by my late 30s, I was getting neither sponsorship nor results. I packed racing seriously at 40 but wanted to stay involved and started to help British Cycling with developing young people.
I started drinking a little and putting on weight, so I began cycling casually to lose it and then my son started doing cyclocross and I would go with him, and that got me back into Veteran competition again. I just liked the competition and trying to win: to win my own battle mainly.
How does training to be an over-50 champion differ?
The body gets weaker as you get older so you must adjust: I have to work around an arterial fibrillation problem. You need to take more care with diet and I take supplements to avoid getting run down. You need more rest – it's harder to get out of a fatigue hole.
What can younger racers learn from your lifetime of experience?
If I was younger again I'd be less obsessive: I'd have more diversions in my life. I'd also have listened to my body more and have gotten more rest.
I think younger racers should aim continue competing as they get older: I've seen many good riders look like they have never been an athlete a few years after retiring . I look at the 70-80 year-olds racers and they give me inspiration: I want to be like that.
Beryl Burton – died in 1996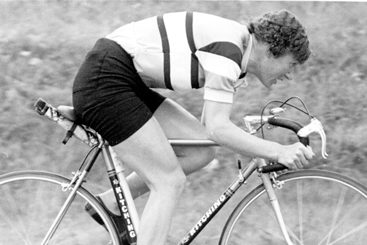 Beryl competed up until her death at 59 and is the epitome of high-level competitive longevity.
Doing justice to Beryl's achievements would require an entire article by itself but the following are the main highlights (and she would undoubtedly have achieved much more had not women's competition been so limited).
Beryl won the world road championship twice and the world individual track pursuit five times. On the home scene, she won 12 national road titles and 12 track pursuit titles.
At time-trial she won 72 national titles and, for 25 consecutive years, was the Road Time Trials Council's British Best All-Rounder. She was the first woman to break the hour for 25 miles, two hours for 50 and four hours for 100. Along with her daughter, Denise, she set a British women's 10-mile tandem record.
In 1967 she set a new outright 12-hour record of 227.25 miles that beat the men's record of the time. In all, she set 50 national TT records from 10 to 100 miles.
It is regretful that we can't have an interview on the topic of longevity with such a fascinating subject but her biographer, William Fotheringham, has developed a keen understanding of Beryl. Therefore, I am grateful to him for the following insights ('The Greatest: the Times and Life of Beryl Burton' by William Fotheringham is scheduled for release in September 2019).
William, how did Beryl stay so motivated for so long?
Beryl contemplated hanging her wheels up in her late 20s after her second child was born but, by her 30s, she was focussed on the fact that she loved the act of cycling as much as actually racing. An illness in her early teens disabled her for two years and that gave her a drive to enjoy every experience she possibly could, and she came to feel that cycling best satisfied that urge. She also clearly enjoyed the new experiences and the chances for travel, and the acclaim that staying in a racing environment would bring.
How did she react to diminishing performance with age?
As her powers became curtailed with age she could no longer be a successful all-round competitor and became more restricted in what she did and could do. She struggled with this, I think, at the moments when that decline became measurable – most notably when her daughter Denise outsprinted her for the national road race title in 1975. The fact that their relationship became strained after that is evidence of Beryl's struggle with diminishing ability.
Also, she was able to recover relatively rapidly from quite serious injuries from her mid-20s but this was harder in her 40s and these injuries had a cumulatively damaging effect. She also had to deal with declining natural explosive power and short high-speed efforts during her 30s and her ability declined in short-distance track races and road races. So, she retreated into time trialling, which was what she was best at, and where she was most comfortable.
The longer she continued to race, the more she became more nervous about losing and that was a challenge for her also.
What could younger riders learn about competitive longevity from Beryl's career?
She was definitely negatively affected by her tendency to ride through illness and injury: she was not one to accept weakness in herself. Plus, this was a time when knowledge of how to look after athletes' bodies was fairly primitive and she didn't attach much importance to remedial techniques such as stretching, massage and rehab after injury. It's impossible to avoid the impression that she simply didn't look after her body that well over the years. But she was far from alone in that: athletes have a natural tendency to think they are indestructible and Beryl was no exception.
………………………
Achieving longevity – the lessons from the Masters
What can we learn about achieving competitive longevity from the wisdom of these riders, accumulated over many decades? While the sample is small, and all riders and their circumstances differ, there are a number of common themes that coincide with an emerging body of research on older athletes. We can divide the lessons learned across four key period.
  1. The prime years
All of our subjects would have given similar advice to their younger selves and it can be distilled into three key messages:
Looking after your body is a key to successful life-long competition: rest more and eat well, respect injuries and do rehabilitative activities.
Unburden yourself of a lot of the frivolous baggage that can consume so much energy and drain morale and try to cultivate what psychologists call a 'harmonious passion' with your sport, as opposed to an 'obsessive passion', so that it doesn't become overpowering and all-consuming.
Keep contact with your community and cycling roots.
  2. The ageing onset
Many struggle when performance begins to drop off due to ageing. If they retire at that point their the loss of identity as 'a cyclist' may, according to sports psychologist Dr. Emma Vickers, effect a person's overall self-concept and esteem.
Do not try to maintain the same routines when age begins to bite as frustration leads to many just walking away from the sport. Respect the inevitable and make adjustments to stay competitive: train smarter with more recovery, pick your events carefully and focus on what you are good at.
Think about diversifying and exploring other competition options.
  3. The hiatus period
For some, there is a hiatus between the ending of their 'first career' and a resumption to serious completion in their 'second career'. A key to that resumption actually occurring is staying in game somehow during this interval: stay involved and keep riding your bike even if not interested in doing so too seriously.
By staying in the game new opportunities and new passions can serendipitously present themselves and open up that 'second career', equally fulfilling as the first.
This hiatus period can also help re-discover a simple child-like joy and love of the bike that may be dulled from the grind of competition over many years.
4. The Masters years
Look forward to, and enjoy what, according to a raft of research, could be some of your most satisfying years as a serious competitor.
The physiological ones are often touted: the significant slowing in the ageing process that is achieved from the type of intensive effort that competition and training involved. 'Moderate exercise', so often and so patronizingly suggested for older people, just won't do it.
However, there are equally-significant psychological and social benefits. I know, from coaching Masters riders, that they have similar ambitions, passions, commitment, anxieties and disappointments as their younger counterparts, but the research tells us that they are much better at regulating these and more at ease in their skins.
Research at the University of Ottawa, for example, led by Associate Professor Bradley Young, found that world-class Masters had more signs of harmonious than obsessive passion: their sport occupy a healthier and more balanced place in their lives. Professor Andy Lane of the University of Wolverhampton found that older competitors were better at emotional regulation: they become better at avoiding 'unwanted psychological states'. Researchers in Melbourne found that competition bolsters the identity of older racers: they use it to psychologically distance themselves from the societal stereotype of the ageing person.
In short, it is worth staying in the game from a whole host of perspective: adventure, fun, physical, social and psychological.